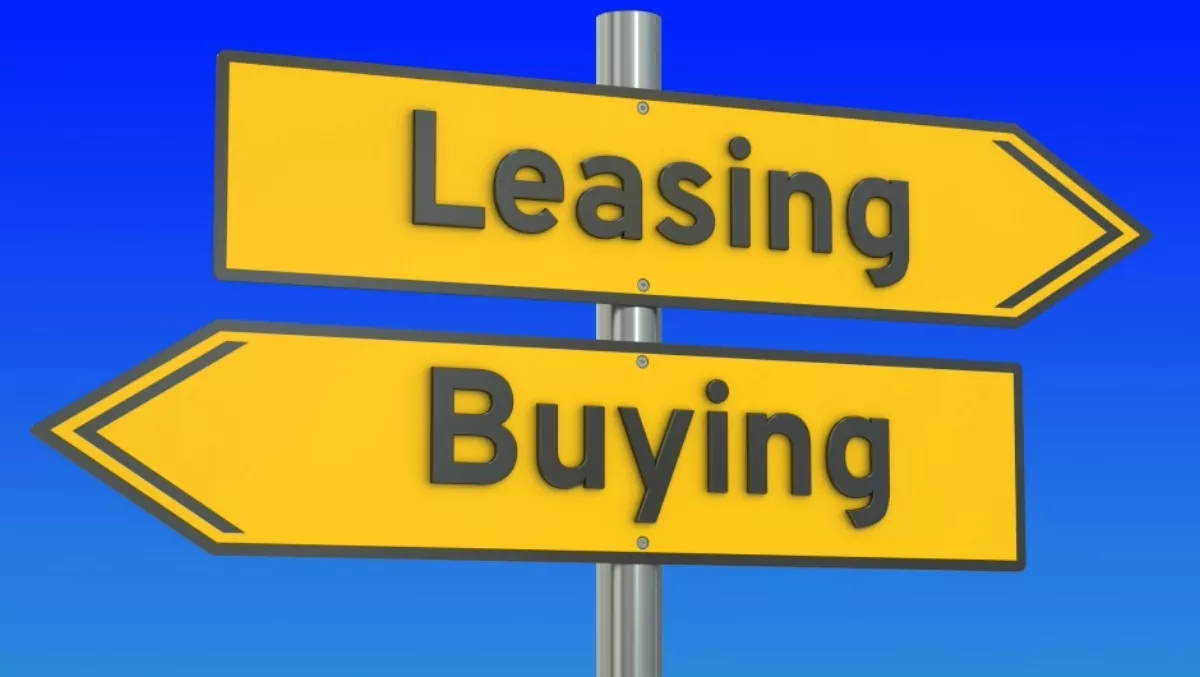 Lease is more: The reseller benefits in leasing
FYI, this story is more than a year old
Kiwi leasing companies are reporting strong growth as New Zealand businesses seek ways to move ever increasing amounts of costs from capex to opex, be it cloud or leasing.
"The key characteristic that businesses are looking for at the moment is the ability to tip the model over, which ultimately means being able to get off balance sheet for infrastructure that is non-core to their business operations," says Adam Dodds, IDC research director for channel strategies, alliances and brokerage.
He says that is pushing businesses big and small to look at more commoditised assets, which can be anything from infrastructure to devices, and looking at whether they can put them under the operational part of the PNL.
Both Simply Leasing and FlexiGroup – whose brands include FlexiRent, EasyLease, SmartWay, Equico, TRL Education, TRL Leasing and FlexiLine – say they're seeing strong uptake of the leasing option.
Simply Leasing, which was born out of distributor Atlas Gentech recently relaunched itself, with plans to aggressively pursue a larger share of the Kiwi market.
Steve Varney, Atlas Gentech managing director, cites statistics showing around 50% of all equipment acquisitions in the United States are now leased. He's confident New Zealand can also follow that path.
While once seen as an option for customers who didn't have the upfront cash to pay for large capital outlays, Varney says today, many 'well heeled' businesses, along with corporates and even government departments and schools are looking to leasing to provide an operating model, with a total cost of ownership, rather than capex model.
"There's a big trend towards that globally and it's really taking hold here as well."
Perry Cornish, FlexiGroup head of marketing and strategy, says FlexiGroup is seeing 'really good' year on year growth via the channel – which includes more than 3000 resellers.
"Resellers say [offering lease as a payment option] can provide a competitive advantage," Cornish says.
"If reseller A is getting everybody to pay cash, but reseller B has cash and leasing as options, then reseller B has an advantage and they can sell a lower monthly price point because they can pay it off monthly," Cornish says.
"And it creates opportunities to increase the value of the deal size, which is ultimately part of the leasing proposition - let alone the fact that the gear itself is depreciating quickly."
It's a view echoed by Varney, who says leasing reduces the barrier to a sale in terms of upfront money and having to get capex approvals when selling to large corporates, while also making the customer more sticky, with customers returning to the integrator to upgrade a lease when it expires.
"The other advantage is you keep the customer's system up to date a lot more," Varney notes. "When they're on a lease, there is a finite decision to be made at the end of the lease about upgrading."
A quick upfront payment to resellers is also on offer, with both Simply Leasing and FlexiGroup saying they pay out within 48 hours of the customer signing off on delivery.
For customers, leasing frees up the capital to be redeployed elsewhere in the business to further improve their business.
"That's still probably the most compelling reason to use leasing," Cornish says. "It hasn't changed and I don't' see it changing.
You only have to look at major corporates through any of this space where major capital expenditure is better paid off over time if the return on equity in a business is high enough to beat bank funding rates.
"And at the moment with bank funding rates being very, very low and return on equity potentially a lot higher, you'd be wanting to potentially go down a leasing route, I would suggest."
Cornish says while FlexiGroup is seeing strong demand from its more traditional ICT resellers, 'exceptional' demand is coming from security, medical and hospitality sectors.
"We see those sectors with way more than double digit growth," he says.
Cornish says the growth across those three areas is being driven by the move to more technologically driven solutions.
"You see it in hospo where companies have got online menus or are getting more technology around how they run transactions; security has changed fundamentally where it is very very easy to get hold of cameras and link them and the technology is better and faster.
"Those things all help drive that space."
Cornish says resellers are increasingly combining software and services – something that can throw up some challenges for leasing, he admits.
"It's certainly challenging. But we've got some resellers where we look at what that service proposition is and look at whether it can be funded on monthly basis," he says. However, he notes 'We certainly want a high proportion of the deal to be hardware'.
"We see monthly payments and the ability to combine software and service elements as a really attractive proposition especially when coupled with our payment plan where we pay them once we have client signoff and delivery, then we pay overnight."
Cloud impact
Varney admits cloud will have an impact on leasing.
"When you look at the typical IT market, yes, cloud will have an effect, but there are other markets that are exploding – such as the security market – where that is not going to have an effect," he says noting that even if a company uses cloud based recording, physical cameras are still required on premise.
He notes Simply Leasing is also funding cloud operators. "They still need to have an infrastructure," he notes.
"There's many types of cloud. Public, hosting of people's equipment in a data center – so they still own the euqipment but they're hosting it elsewhere – but equipment still needs purchasing.
"A lot of the stuff we do – cameras and so on – are going to be there even if you take it to the cloud: you'll still need physical cameras even if you're doing cloud recording.
"And those sorts of areas are exploding."
Adds Cornish: "We still see businesses wanting to find ways to fund things. That doesn't change.
"What we do see is the technological needs of businesses increasing year on year. It doesn't matter whether it is the accounts department, the sales guys, they need technology.
"Even though there is a lot of technology moving towards the cloud, at a day to day business level, people still need equipment to do business on. And technology is opening up sectors such as security to have a deeper and wider involvement in technology and it has become more available more ubiquitous in the marketplace now and that's just another layer of opportunity for us."
Related stories
Top stories