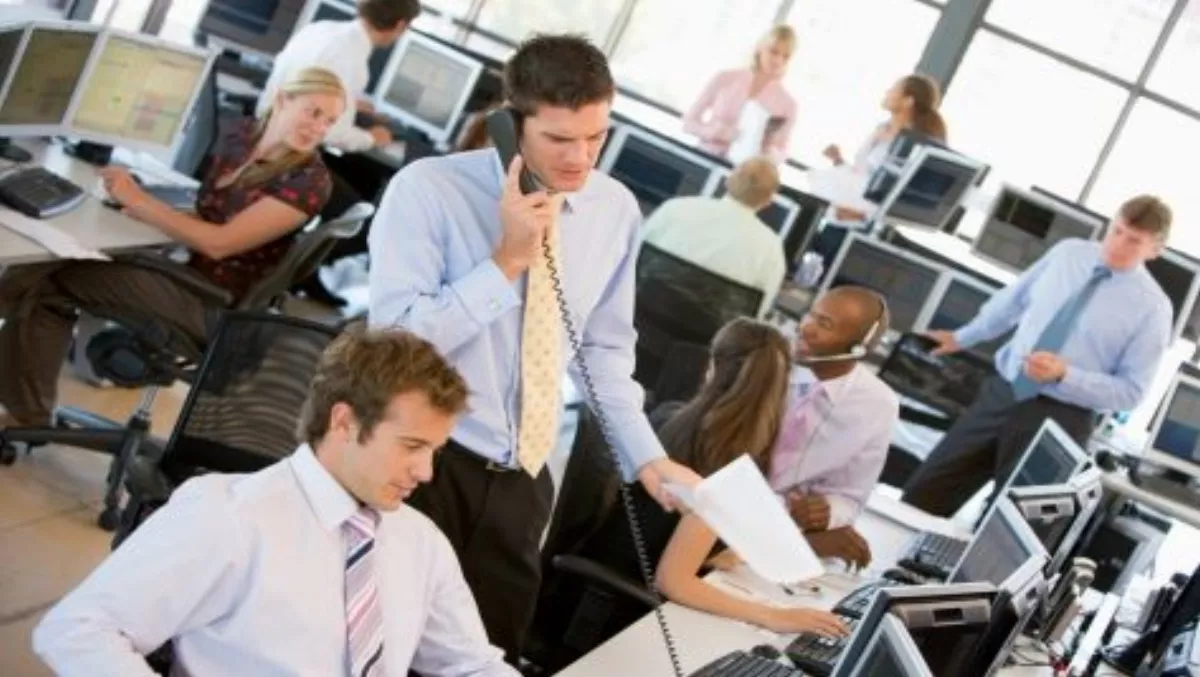 Manage noise disruptions with audio communication tools
FYI, this story is more than a year old
Digital developments are bringing about changes in the workplace, and as a result, employees' expectations and behaviours are changing.
New levels of noise are just one of the changes that have been introduced by new technologies in the work environment.
Open plan offices, department collaboration, flexible working styles as well as the influx of mobile devices in the workplace are just some of the trends driving the need for effective noise management.
That's the word from audio communications firm Plantronics, who says noise is becoming a growing concern for businesses. The company says advanced audio technology and communications best practices can help organisations overcome the noise challenges driven by these new trends.
Plantronics produces audio communications equipment for business and consumers. In New Zealand, its leading distributor is Atlas Gentech, a provider of technology products and associated services to businesses via integrations and channel partners. The company has been Plantronics' leading distributor since 1996.
Leon Steyn, National Brand Manager for Atlas Gentech, says that while open plan offices can drive collaboration and contribute to innovation, this kind of environment can have a negative impact on employees.
"Noise and lack of privacy are the top complaints. And it isn't just noise, but the type of noise: the human voice is the most distracting of all," Steyn says.
With the rise of the mobile employees and flexible working policies, additional noise challenges have emerged both inside and outside the office, he explains.
Steyn says it is vital organisations apply audio technology and best practices to enable better collaboration across the working environment.
Together with Microsoft, Plantronics provides organisations communication tools that enable employees to work effectively, no matter the environment.
"Our partnership provides simple, highly integrated audio solutions to bring technology and people together," Steyn explains.
The Plantronics portfolio of Unified Communications solutions is certified for Skype for Business and optimised for Microsoft Lync.
"Plantronics solutions coupled with Skype for Business give organisations a trusted audio endpoint that works out of the box and provides integration with the Skype for Business communications platform," says Steyn.
Steyn says it's important for IT decision makers to ensure workplace changes are working for their organisation. Plantronics applies advanced technologies to its products to ensure every worker can hear and be heard.
"By managing noise and enhancing the intelligibility of desired speech, Plantronics headsets improve peoples' ability to hear conversations clearly," says Steyn. "The listener hears more of the speaker's voice in relation to surrounding background noise."
"We are please to see Plantronics deliver solutions for Skype for Business to extend the communications experience and enable people everywhere to connect and achieve more," says Giovanni Mezgec, general manager of Skype for Business, product marketing at Microsoft.
"With a Plantronics device you're not only at your desk, you're everywhere," he says. "I think there is a great opportunity for IT to really empower the people In their organisation using Plantronics devices and Skype for Business with Microsoft."
Mezgec continues, "And that is really to make people and users in an organisation the centre of what they do."
"One thing that often is forgotten is the increasing importance of high-quality voice communications. Better collaboration is not just about availability; it is also about effective interactions," adds Steyn.
"Strategies to facilitate collaboration prove ineffective if the ability to focus is not also considered," he says.
"Plantronics is a reliable partner that can help develop solutions specific to smarter working and open offices," Steyn says.
"Plantronics enables customers to deploy powerful, reliable and comfortable solutions to address acoustic issues in today's work environments and improve productivity across the organisation."
For more information on Plantronics communication tools, please click here.
Related stories
Top stories