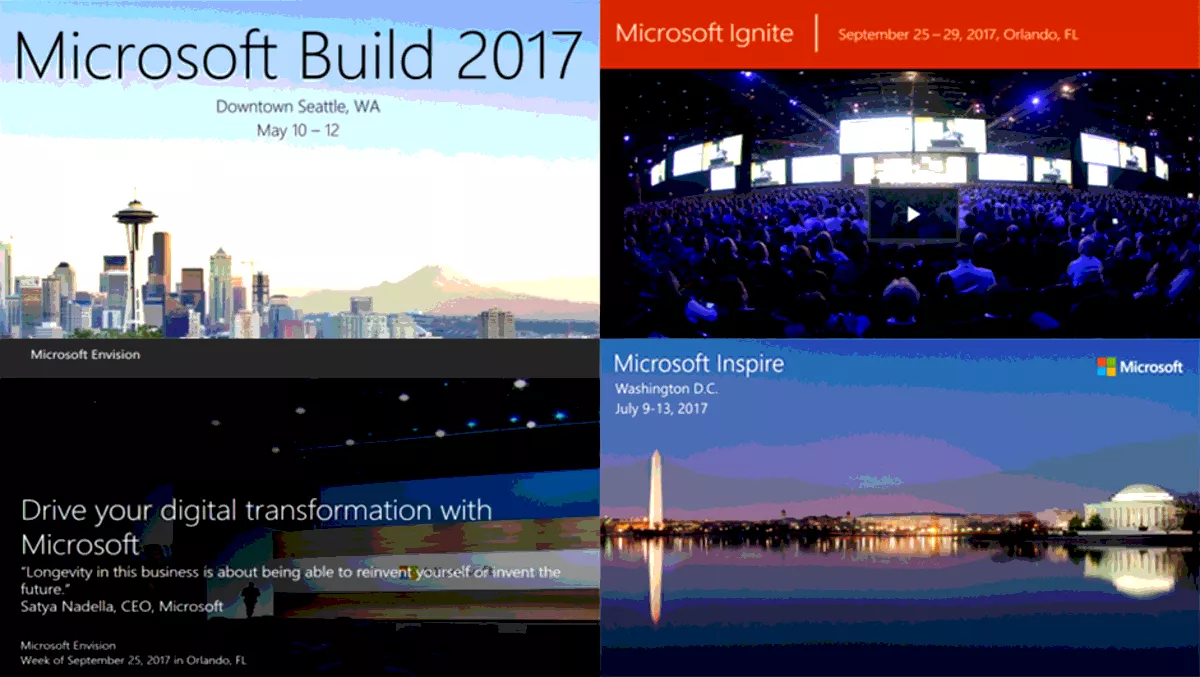 The road to Microsoft's global flagship events for 2017
Thu, 30th Mar 2017
FYI, this story is more than a year old
By Ashton Young, Editor
Every year Microsoft hosts some of the biggest events in the world – none more so than their four global flagship events.
Microsoft Build, Microsoft Envision, Microsoft Inspire, and Microsoft Ignite are hotly anticipated every year, showcasing incredible technology, influential speakers, unique networking opportunities, and consequently, participant numbers.
Here's a breakdown of each of these events:
Microsoft Build
Location: Seattle, Washington Date: 10-12 May 2017 Target audience: Developers
Software has transformed the world in remarkable ways and at the heart of the software revolution are developers.
Microsoft Build will be hosting developers to learn about the latest technologies and exciting plans on the horizon. The event will be packed with strong technical sessions in addition to opportunities to meet and learn from others in the industry.
While it has in fact sold out, participants can still join the waiting list or view keynotes and select sessions that will be streamed live.
Microsoft Inspire (formerly WPC)
Location: Washington, D.C. Date: 9-13 July 2017 Target audience: Partner business decision makers and emerging leaders, sales and marketing professionals
Microsoft Inspire is the largest event for Microsoft partners and draws more than 16,000 attendees from over 130 countries together for a week of networking, creating leads and partnerships, and in-depth learning on business-building strategy.
No other conference brings together so many of the most engaged leaders in the Microsoft partner ecosystem. A full week of networking, learning and collaboration. Enough said?
Microsoft Ignite
Location: Orlando, Florida Date: 25-29 September 2017 Target audience: IT decision makers, IT professionals, enterprise developers and architects
Microsoft Ignite allows participants to access deep technical training, discover new tools for innovation, and connect with the tech community.
The event contains a whopping 1,000+ hours of content with more than 700 sessions, insights and roadmaps from industry leaders, and deep dives and live demos on the products you use every day.
What's more you can see what's next for the world – get your questions answered from the people who built the products you use every day.
Microsoft Envision
Location: Orlando, Florida Date: 25-29 September 2017 Target audience: Customer CXO's and their senior department and functional leaders
"Irrespective of your industry, organisations today must start thinking and operating like digital companies" - Satya Nadella, CEO, Microsoft.
Microsoft Envision is set to challenge assumptions and explore what is possible through digital transformation.
Microsoft Envision will seek to help drive business transformation for your organisation by enabling you to share in the experiences from industry and thought leaders and how they're making an impact.