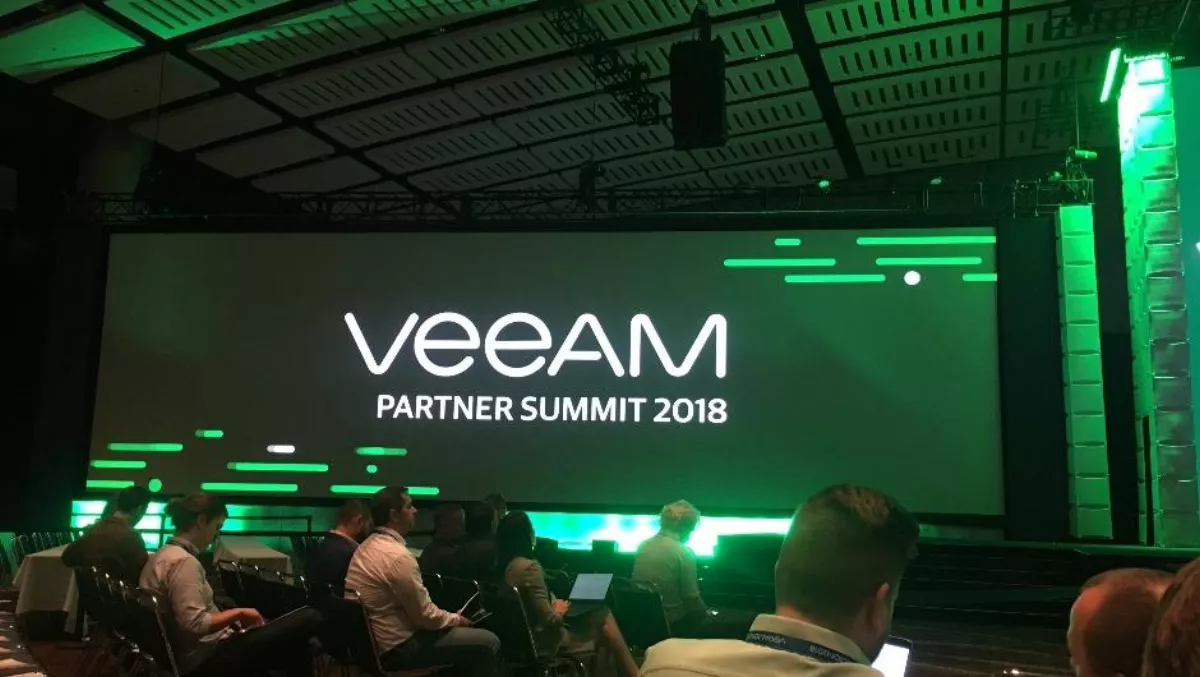 VeeamON: The 3 key takeaways from the Partner Summit session
FYI, this story is more than a year old
Today at VeeamON in Chicago, members of the Veeam leadership team took to the stage to tell their reseller and service provider partners how best to work with the company over the coming year.
Here are the three key points from the Partner Summit general session that anyone who sells now or is considering selling Veeam solutions should know.
1. Go 'All In'
This is the theme of VeeamON 2018 and by far the most repeated phrase throughout the two-hour talk.
In this context, the mantra is saying that those partners who make Veeam's data management offerings a priority will be rewarded by the company.
"If our partners aren't successful, we aren't successful," says Veeam partner sales vice president Kevin Rooney.
"There are legacy backup players that are falling by the wayside and we are eating that business up every day."
"We want to be a critical part of your business and you will see us invest in partners that take that approach."
Later, Veeam CEO and president Peter Mckay backs this up as he notes that as Veeam is growing at a rate of 40% year over year and, as they are 100% channel, their partners have the opportunity to do so as well.
"If your business isn't growing at 40% then someone else in this room (full of partners) is grabbing your share of this market - we invest in companies who invest in us and dedicate to us around the globe… we're codependent."
2. Brand is everything
Chief marketing officer Kate Hutchinson took to the stage to explain the process of rebranding that Veeam has been going through over the last year and how partners can ensure they are staying on message.
"In some ways, I think (Veeam) is one of the best-kept secrets, but I think we can all agree that it's truly time for the world to hear and to see the Veeam that we have become."
Hutchinson outlines the traditional view of Veeam as a backup and recovery vendor and how they are trying to move away from that perception, and toward that of a provider of a multi-faceted, intelligent data management platform for the contemporary world.
With Veeam's focus shifting toward the complicated enterprise customers, there is more work to be done to ensure the right solutions are getting to the right organisations.
Hutchinson gets to the heart of the matter when she asks the partners gathered in the hall - 'So, what's in it for you?'
"Selling the platform changes the game," Hutchinson explains.
"It allows you to have much more strategic conversations with our customers and ultimately achieve that goal of being a trusted advisor to them - to help them solve their data management challenges in new and better ways."
3. What do enterprises want?
Veeam is all about differentiating itself among the pack - starting with its impressive Net Promoter Score of 73.
Product strategy vice president Danny Allen speaks to his experience talking with CIOs and IT leaders about what they are looking for and how Veeam and its partners can be best positioned to provide those things.
"One of the things that I've heard from every CIO that I've talked to is (they) need to leverage digital services to interact with consumers on an ongoing basis," he says.
"CIO's don't say to us 'oh, I want backup' or 'oh, I want replication. I hear three things repeatedly from all of the executives that we talk to. The first is, 'I need the service to be there.' This isn't just high availability… it's business availability… making sure that the services that we create are always on is number one in the minds of the executives that we're speaking with.
"Second is, 'I need you to drive value for my organisation'... it's incumbent on us to help drive that intelligence to make the industry perform better. The last thing I hear is that it needs to be secure… and this is all underpinned by data."
The overall impression of the session is that Veeam truly wants its partners to be a mouthpiece for the company and that those that are will be rewarded with the attention of the vendor.
Related stories
Top stories