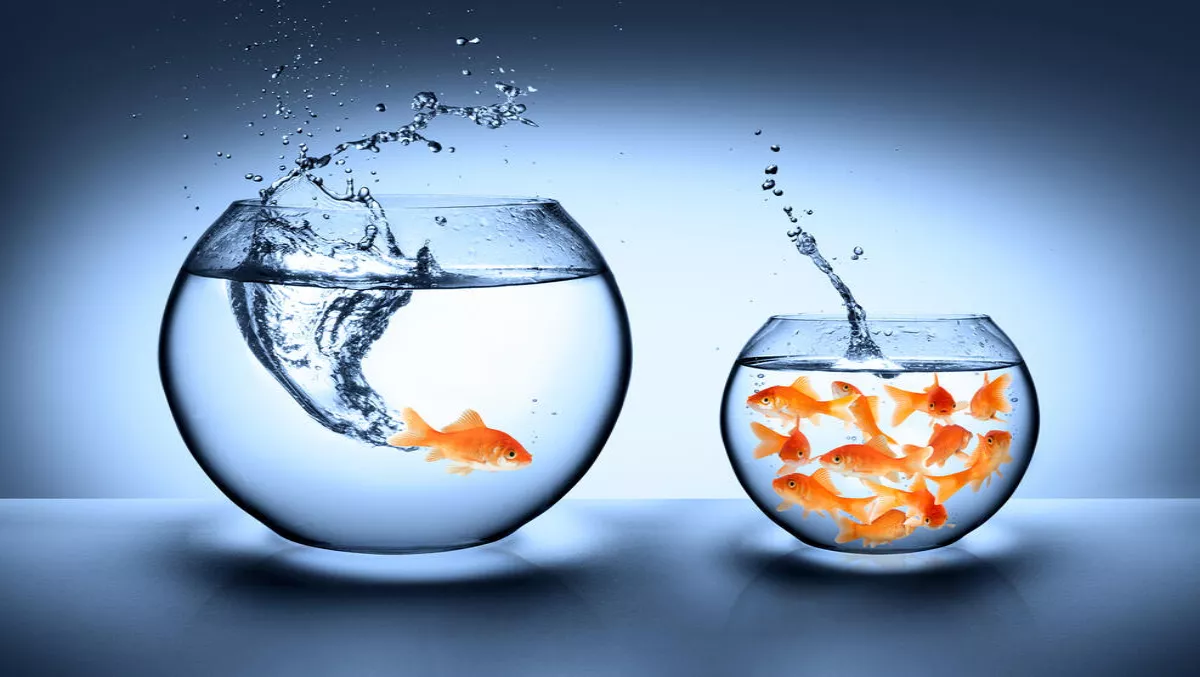 Why scalability is key to reseller success
FYI, this story is more than a year old
Your client's security needs boil down to one key imperative: Keep adversaries out of the network. Everything else hangs off of this one basic truth. Authentication, analytics, reporting, advanced threat protection and every other specific security application has one purpose and one purpose only: Protect intellectual property (IP), data, applications and users.
This is true for SMBs to global enterprises. As resellers, your responsibility is to provide the products and services to help your clients protect their network. And Fortinet is the only security vendor that has comprehensive security solutions for all of your multi-user clients, regardless of their size or resources, physical or virtual.
"Every business with IP, a network, data and users needs comprehensive security," says Swapneil Diwaan, Business Unit Manager at Ingram Micro, New Zealand's largest and most experienced distributor of Fortinet's cyber security solutions. "No business is immune from intruders, ransomware, malware, phishing, you name it.
It just makes sense to engage with a single security vendor that provides end-to-end integrated solutions for all of your clients. One set of integrated firewalls and appliances to install, one operating system to learn, one management console to configure and one team to support you: the experts at Ingram Micro's Fortinet Business Unit."
Specialist skills required
Cyber security takes specialist skills to specify, install, configure, integrate, maintain and support. "Plug 'n play is not an option when it comes protecting your client's network," says Rod Christie, Solutions Architect with Ingram Micro's Fortinet Business Unit.
"You need to get inside their operations, understand their traffic patterns, examine every gateway and look at each component. You need to assess the level of expertise in their in-house IT support team. And you need to ferret out their budget. The process is the same for every client and is vendor-neutral."
The Fortinet advantage
It's the next step where the Fortinet advantage really kicks in. "Fortinet's solution set," says Christie "ranges from the entry-level FortiGate 30-E, rated at 950 Mbps throughput with single USB, console and WAN ports and four switch ports to the massive 630 Gbps throughput FortiGate FG-7060E with multiple ports.
"Both of these machines contain the same core security features and run the same secure operating system. And either can be deployed on-premise, at your facility on a MSSP basis or, in different form factors, in the public cloud. And then there are literally dozens of ancillary appliances that add even more specialist security capabilities at faster speeds, again all under a common interface and operating system."
Expert support
When you invest your staff's time and energy into product knowledge, you want to ensure that it will pay dividends now and in the future. "With Fortinet, each time you install a firewall, configure a smart access point or set up a virtual sandbox you are adding to your team's knowledge base," continues Christie.
"The more you install and maintain, the easier it gets. And at Ingram Micro it's the same. We have been looking after Fortinet for years and have built up considerable expertise in successful installations and support. If we haven't done it, we can find someone who has. As a solution architect, it's my role to help you specify exactly what your client needs to keep their networks safe and then ensure that they stay that way."
Fortinet and Ingram Micro: Your one stop security shop
"Why go elsewhere?" Diwaan asks. "We support Fortinet's comprehensive product range, we have a dedicated team of experts at your service, we offer training, help with demos, prepare detailed quotes and pride ourselves on the personal touch. And Fortinet has the security solutions for clients of all sizes that consistently garner industry accolades."
"If you are serious about your client's security and your own sustainability," he concludes, "you should focus on Fortinet, backed by Ingram Micro. Seriously."
For further information, please contact:
Swapneil Diwaan, Business Unit Manager Email: swapneil.diwaan@ingrammicro.com M: 021 240 1240
Jeffrey Whale, Business Development Manager Email: jeffrey.whale@ingrammicro.com M: 027 543 5927
Gerrard Kennedy, Business Development Manager Email: gerrard.kennedy@ingrammicro.com M: 027 543 8212
Related stories
Top stories