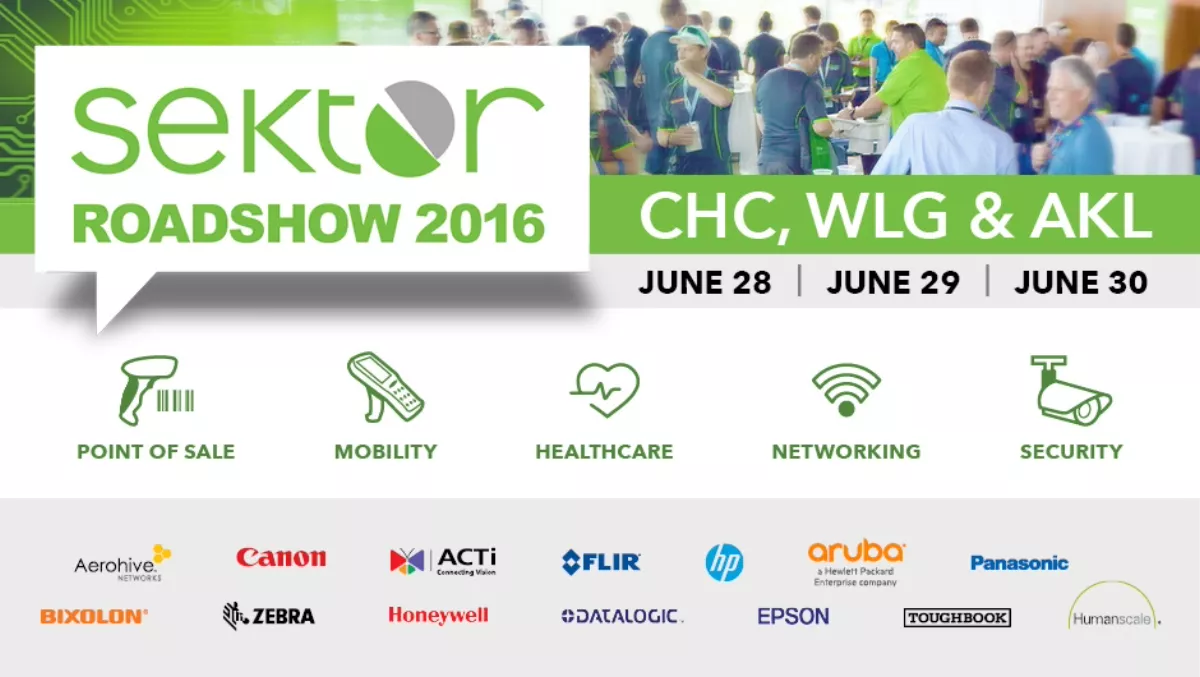 Your invite: Sektor Roadshow 2016 - learn about future trends and product sets
Tue, 14th Jun 2016
FYI, this story is more than a year old
By Ashton Young, Editor
Staying one step ahead of your competition is a constant challenge. It is becoming more important than ever to keep up as new technologies continue to emerge.
The 2016 Sektor Roadshow will delve into the ever-changing specialty technology market to explore future trends and products sets to uncover new market opportunities for your business. There will be industry-leading vendors – including Aerohive Networks, HP, Epson Honeywell and many others – focusing on Sektor's five core verticals: Point of sale; Mobility; Healthcare; Networking; and Security.
There are three presentation streams:
Point of Sale - Networking
Mobility - AIDC
Security - Healthcare
Held across three theatres, there are five 20 minute presentations per stream all running in parallel. You can view the agenda timetable here.
The presentations will focus on the resurgence of brick and mortar stores, GenMobile and the increasing need to leverage connectivity of networks. You will be able to hear first-hand of Big Data trends in analytics for insights and see the massive opportunities of tech in healthcare.
The three streams running side-by-side will allow you to tailor your schedule to attend the presentations that are of the most benefit to you. This is not to mention the opportunity over morning tea and before lunch to converse with vendors directly.
The 2016 Sektor Roadshow will be held in Christchurch on the 28th of June, Wellington on the 29th and Auckland on the 30th.
Find out more about the Sektor Roadshow here or you can book your place now so you don't miss out.